Want to digitize complex human movements into your computer to create realistic character animations in real-time?

Firefly Documents:
Firefly Data Sheet
(Adobe Acrobat Format)
Firefly User Guide
(Adobe Acrobat Format)
Firefly Demo Video
(Shockwave Format, ZIP file)
Buy a Firefly!
(Write for a price quote)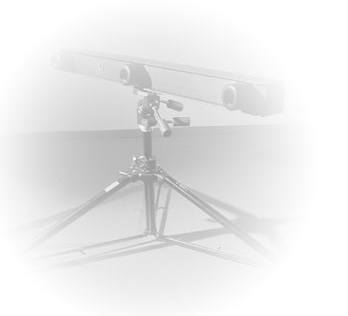 The Firefly by Cybernet Systems Corporation is a high-speed real-time optical tracking system designed for full body motion capture. The system consists of a factory calibrated camera array that tracks the position of active tags, infrared LEDs wired to a small controller box that can be worn wireless by the user for unencumbered and free movement. Firefly provides the accuracy of an optical system with the real-time speed of other tracking techniques at a reasonable cost. The Firefly is ideal for in-house motion capture, and well-suited for use by any game developer, animator, virtual reality environment creator, or researcher.

– Portable (22.3 pounds)
– Windows 95/NT capture apps
– Windows 95/NT and UNIX APIs
– Serial Port interface
– operates in normal lighting
– runs 32 tags per controller
– runs 256 tags maximum
– 900 tags per second scan rate
– Only $27500 (with 32 tags)
– Extra tag control: $4,000
– 32 extra tags: $2,500
– More info on the Data Sheet
– Demo CD available by request
– Questions? E-mail us…
– or call us at 1-734-668-2567